Here's an update on all the information about each of our roles and expectations that Colette had discussed with us during the meeting on the 29th Jan

I have also included deadline dates~



Assessing everyone's roles

What is everyone doing in the next few weeks?

Daryl finishing drawing up the carnival backgrounds and start final painting

Abby finishing off animation, thumbnail sketches of mood/atmosphere of backgrounds, clean up own scenes

Erica finishing off animation, going into Toonboom and rendering characters

Natasha finishing animation, start to clean up and ink render

Lydia finishing sea animation, designing final beach backgrounds

Charlene finishing animation, clean up and ink rendering

Colette finishing animation, clean up and ink rendering
This table is for clean-up and who is assigned to what scene.
Dead Lines:
Animation MUST be completed by this
Friday
the 2nd of February ready for cleanup etc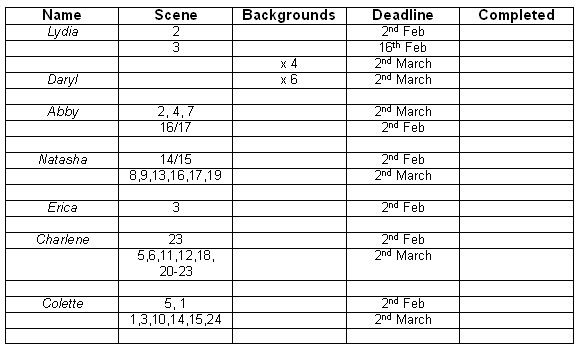 If any clean up and rendering is finished before the 2nd of March please hand to Erica to start to put through Toonboom!!
A reminder to the third years that our Final Major Project ends on the 16th April, after our Easter break.
Each one of us will be given deadlines for each of the tasks that are assigned to us and put up on the wall in the animation studio by Charlene's and my desk. This is not only to remind us of the work we are needing to do, but to also display where we are to the rest of the group.
Animation:
All the scenes are now either being animated or have been finished! So far all in on Deadline! So keep it up :D we are doing good!